Shed Delivery & Installation
Standard Delivery and Installation is Included, with your New or Used Shed purchase, within 75 miles of our sales locations. Installation includes placing your shed on top of concrete blocks, and lag bolting mobile home anchors to the shed which are drilled into the earth, as per the engineered plans. This installation process along with the superior manufacturing process allows for the 180MPH wind rating on your Smithbilt Shed.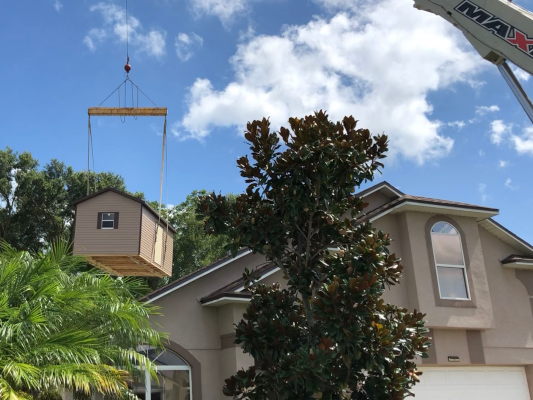 Pro Shed Installation
Our automatic hydraulic winch trailers and dedicated crew allow us to install sheds in even the tightest, low-clearance properties. Do you have a fence or obstruction in the way? Our crane-in options are great for tight spots with no access.
Shed Financing
No Credit Check Financing
Yes, you heard right! No credit check sheds offer all customers a fast approval on your new shed! Call our team today and learn about your easy payment options to secure the shed of your dreams today.
We provide financing for sheds, steel buildings, and tiny homes all with low monthly payments at competitive rates! We accept cash, personal checks. Visa, MasterCard, Discover and American Express.
Our financing options include Lease Option plans with flexible payment terms of 24, 36, and 48 months with no credit check and guaranteed approval!
Cash Shed Sales
Sunshine Structures® accept cash, checks (personal or bank), money orders, and all major credit cards as forms of payment. Please note: credit card payments incur a 2.65% convenience fee.
Rent-To-Own Sheds
What's great about our rent to own program is there are no credit checks, no strings attached, and the ability to pay off your building early. When you rent to own your Sunshine Structures® storage building, you get a low monthly rent payment and the peace of mind knowing you are building equity.
Shed & Steel Building Financing
Sunshine Structures offers easy financing through RTO National® on our sheds and steel buildings with plans that offer a fixed rate with low payments as well as plans that offer no payments and no interest if the total is paid within a certain period. You will receive a credit decision in minutes, that allow you to take advantage of credit limits up to $55,000.
Warranty
Our warranty is one of the best in the industry! Smithbilt Industries, Inc. guarantees all aluminum siding against rust for twenty (20) years, and we guarantee against defects in workmanship for five (5) years.
This limited warranty extends only to defects in materials or workmanship and does not extend to the product or part which has been discarded by you. This warranty does not apply in the case of damage caused by sprinklers, animals, misuse, accident, improper maintenance, normal wear and tear such as scratched, scuffs, cracks, discoloration, vandalism, or acts of nature or any other event beyond the control of the manufacturer.
This guarantee becomes null and void if the building is misused or altered in any way by other than Smithbilt Industries, Inc. personnel. Minor imperfections and improper installation are excluded from this guarantee.
This warranty is valid for original owner only and is not transferable.
Ready to purchase a shed?
Let Sunshine Structures bring you the shed of your dream!